Become a
qualified Practitioner
of the Grinberg Method®
Are you fascinated by the possibility of teaching with body awareness and want to learn more about it?
You want to practise a profession that takes into account and focuses on the perception of the body, thoughts and feelings of your clients individually?
Are you interested in studying the Grinberg Method®?
The training to become a qualified practitioner of the Grinberg Method® runs over three years: once a quarter we meet at the seminar location for an intensive training week, in total there are 12 weeks of teaching. The acquired knowledge is deepened in the time "between the weeks". In addition, we offer online lessons with Q&A (questions and answers). There are annual review and certification sessions.
Aims of the Training
You work with people who want to achieve relief in dealing with anxiety and pain.
They learn with you how to improve their quality of life and access more of their potential.
You teach access through the body, the clients stay with their experience – you don't give prescriptions or your attitudes.
You learn to teach. Through touch, instruction and description your clients learn to approach something in a new way, to feel and to look at it from a different perspective.
You show your clients their path to themselves, to their individual potential. This is where all your attention is focused.
What you do not do: recommend your concrete ideas to others.
Course of the training
A training week comprises 7.5 days, which results in 60 hours per training week. Four times each year, for three years, for a total of 720 teaching hours. The course is structured in such a way that after each week you should practise and deepen what you have learned. Building on this each time, we start the next training week after two to three months.
Each training week consists of theory and practice. We show you how we approach certain topics or analyses with a client. That means we demonstrate a practical professional situation. You practise the topics with each other. This means that you are alternately in the role of the practitioner and the client.
You will find the exact sequence of topics in the curriculum. Developed 25 years ago and constantly adapted and optimised since then: You can rely on the efficiency of the training. In addition to the live classes, you will receive video recordings from the last two training years with Avi Grinberg.
The training weeks are very intensive for all participants from time to time. We not only teach something, but also learn a lot about ourselves in the process. Embarking on this path requires a certain openness, curiosity, willingness and the will for personal growth.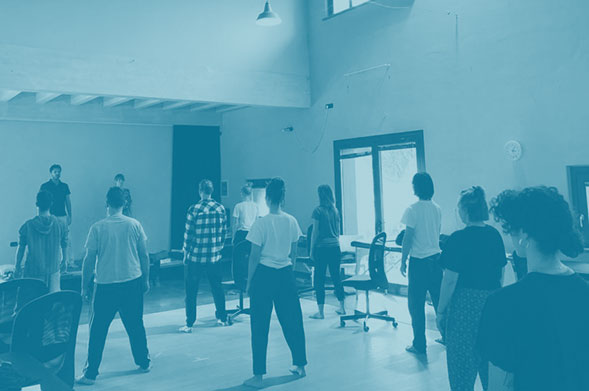 Next course to become a qualified practitioner of the Grinberg Method®
at BodyLearningSchool*, with me as training facilitator/teacher
First year:
22.08. – 29.08.2021
19.11. – 26.11.2021
25.02. – 04.03.2022
13.05. – 20.05.2022
I will be happy to send you further information, the curriculum and prices on request. We can arrange an appointment for personal questions. There are also Q&A webinar dates for which you can register with me for free.
About BodyLearningSchool
The Body Learning School was founded by GM teacher Valentina Ragno, in collaboration with Etienne Lavail. The classes are currently held in Italy, near Milan. There is a wonderful place for these very intensive weeks. We will be excellently catered for and can take advantage of the optimal conditions in seclusion. The lessons are held in English.
My further studies included the following training weeks at the International School with Avi Grinberg and Ruth Elkana:
Integrating (2012)

Verbal Communication (2013)
Intensive Course (2013)
Fire Week (2013)
Stopping Movement (sMove!)
Earth Week (2014)
Trainer Studies (5 week, 2015-16)
Recovery I (2016)

Air Week (2018)

Since 2017 I have been accompanying the three-year training course as a tutor, taught for the last time by the founder Avi Grinberg. Now I accompany the training of the BodyLearningSchool.